Welcome to Trafford Vets
Call us on 0161 747 9002
Check out our Pet Health plan
Sign up and take advantage of flea and worming treatment for 12 months via direct debit to spread the cost of treatment
Urmston Branch
We are a traditional style very caring vets with a modern outlook on animal welfare, providing the latest medical and surgical techniques.
In house lab and x-ray machine
Routine blood results within 20-30 mins
Ultra sound scanner
Nurse clinics, inc' weight, flea and worm checks
Vaccinations, neutering and micro chipping
Fully computerised
Approved veterinary nurse training practice (TP)
24 hr emergency cover (Cheadle A&E Vets)
Please call 0161 747 9002 for the Urmston branch.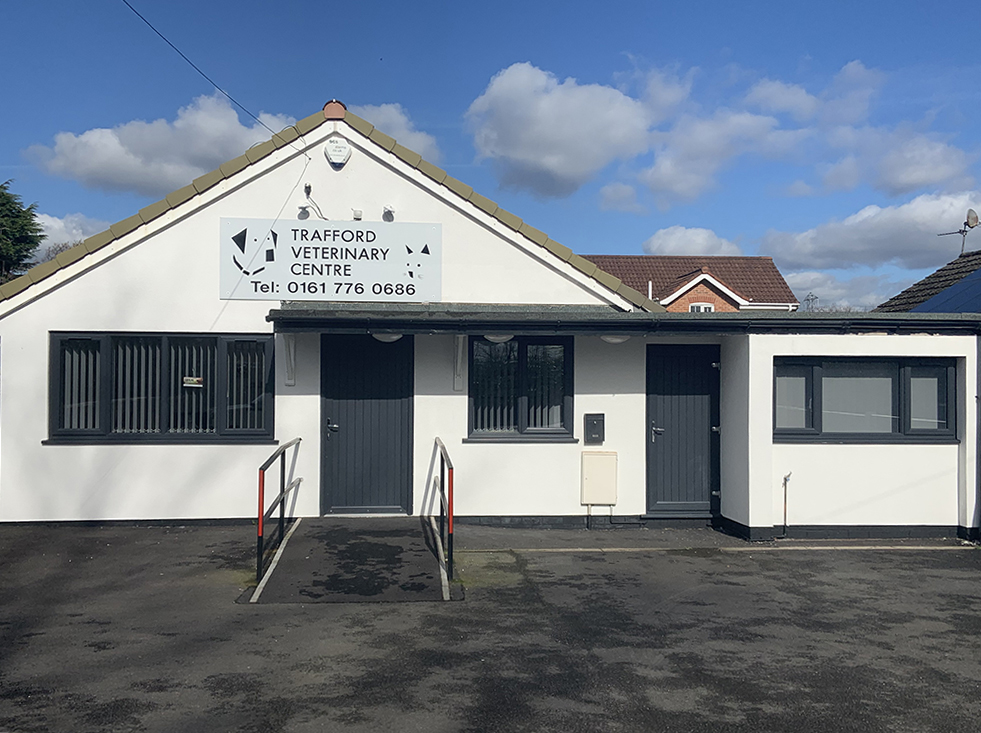 Carrington Branch
Kate, Ruth and Kathy will be available over both practices so please ask at time of booking appointments for availability.
Private spacious car park at the front
Separate cat and dog wards
Separate dog and cat waiting areas
Disabled accessed ramp
Dental Xray suite
All on one floor/ground level
For appointments please call 0161 776 0686
Contact Us – Urmston Branch
16A Davyhulme Circle,
Urmston,
Manchester,
M41 0SS
Tel: 0161 747 9002
E-mail: traffordvet@yahoo.co.uk
Opening Hours: 
Reception
Monday – Friday: 08:45 – 18:45
Saturday: 08:45 – 12:45
Sunday: Closed
Consultations * (* by appointment only)
Monday – Friday: 09:00 – 11:00 | 14:00 – 15:00 | 16:00 – 18:20
Saturday: 09:00 – 12:45
Sunday: Closed
Contact Us – Carrington Branch
98 Manchester Road,
Carrington,
M31 4BD
Tel: 0161 776 0686
E-mail: traffordvetcarr@yahoo.com
Opening Hours: 
Reception
Monday – Friday: 08:45 – 18:00
Consultations * (* by appointment only)
Monday – Friday 09:00 – 10:30 | 14:00 – 15:00 | 16:00 – 18:00